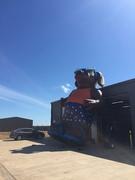 25' Cool Dog

Outlets: 1
Advertising Inflatables Provide Exposure!
Advertising inflatables are one of the most powerful ways to launch your outdoor promotion campaigns. We can help you create a huge impact with your product promotion with our amazing, highly creative and colorful advertising inflatables! If you want your brand/product to get noticed in a big and convincing way then our advertising inflatables are just ideal for your business! Our advertising inflatables will take you places in promoting your brand/product in a cost-effective way! Stand out from the crowd and get noticed with our attention grabbing inflatables!
Weekend Rentals - $400
Week Rentals - $1,000
2 Week Rentals - $1,500
3 Week Rentals - $1,750
4th Week FREE!!