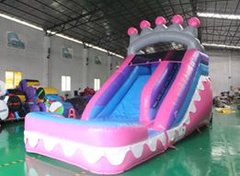 14' Princess Wet Slide

Actual Size: 20'x11'x10'

Setup Area: 23'x14'x13'

Outlets: 1
14' Princess Water Slide
Coming in September!!
*zzzzZZZZOOOOOOoommm!* What was that?! Oh that was just little Johnny and
Sally going down this 14-foot water slide! Kids will go plenty fast
down this slide and splash into the pool and love every second. Enter on the left of the slide and head on up
stairs and make an immediate U-turn on Excitement Avenue! If desired, do that
sucker again and again 'til you can't do it any more!